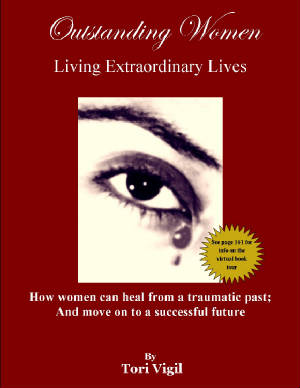 Tori's newest book!
With her first book Surviving the Teenage Journey,

T

ori Vigil helped women, and young girls to heal from a painful past, and inspired them to strive for a successful future by introducing them to spirituality.
In this book Tori takes the reader on a deeper spiritual journey, and gives specific keys to growing closer to God, and living a life of purpose.

Outstanding Women tells the story of some amazing Christian women, whom through God's love, overcame traumatic pasts, and went on to achieve extraordinary success. If they can heal, move on, and find success so can anyone. This book shows you how to experience God in the broken places!
If you've already purchased the book, enter the code from page 175 in the box to the right and get a special bonus gift. If not you can purchase it on Amazon by clicking the link below.
Cecilia "I LOVE THE BOOK!! One of the best inspirational books I have ever read!! I am enjoying the book tremendously, it has helped me to deal with my fears, goals, and so much more. IT IS CHANGING MY LIFE!!"
Tori Vigil
Author, Speaker, Spiritual Teacher, Reporter and Radio Show Host
Tori has a heart to help women who have experienced trauma in their life, her vision is to leave a legacy that will inspire women of all ages to live creatively, define their own womanhood, and embrace their God given destiny. Creative, smart, bold, and strong women help to build a thriving community, and a better world.
CLAIM YOUR FREE GIFTS
to help you grow spiritually
YOUR FREE GIFTS INCLUDE:
* Free Ebook The Beatitudes
* Free Ebook Words from the Wise
* Free access to The Creative Ezine
* 10 strategies for success in spiritual growth